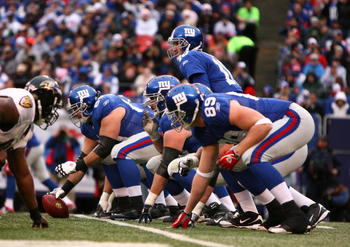 Sometimes, I get a feeling that it really doesn't matter who the running back is for the Giants, they will deliver. Over the last 6 years, the Giants have had a lot of rushers finish with 1,000+ yards in a season: Tiki Barber, Brandon Jacobs, Derrick Ward, Ahmad Bradshaw and Brandon Jacobs. Even though the running backs have been different, the one thing that has been a constant is the offensive line.
Even with the injury to All-Pro center Shaun O'Hara, the Giants offensive line was still one of the best in the NFL. This season, Rich Seubert was the equivalent to baseball's utility infielder. It didn't matter where he played, whether it was guard, center or tackle, and he did exceptionally well when filling in for Shaun O'Hara. When he was filling in for O'Hara, who was in his spot? Both Shawn Andrews and Kevin Boothe filled in, and provided the Giants with much needed protection.
The tight end position was not a strength this season, at least when it came to catching the ball. The average tight end caught 65% of the passes thrown at them last season, while Kevin Boss only caught around 50%. While the catching wasn't all that great, Kevin Boss's run-blocking was excellent, as the Giants ranked 6th in the NFL in rushing.
The numbers don't lie. This season, Big Blue's offensive line ranked 1st in fewest sacks allowed (16), 3rd in fewest QB hits (52) and 6th in rushing yards (2,200). This might not have been the best offensive line in football, but it was very close to it, even though Shaun O'Hara played only 7 games.